Estimating How Much Compost, Mulch, or Rock is Needed

Doing things your self can be difficult at times because if you have never top dressed a yard with compost or filled a flower bed with rock or mulch then it is hard to know ho much material you need.
This coverage chart can help you estimate how much material you will need. If you need help or have a larger area to cover don't hesitate to call or stop by and we can help you or calculate it for you.
---
The Composting Process from Start to Finish
The composting process recycles yard waste that would have went to the landfill and turns it into rich compost
About Compost
Compost is a soil enhancer that adds organic matter, salts, a healthy population of naturally occurring soil organisms and other nutrients to the soil which revitalizes the existing microbial population in the soil, allows for better absorption of water and increased water holding capacity. Soils that have organic matter provide beneficial nutrients to plants. It is important to improve soils prior to seeding or sodding to return many properties to the soil that have been lost over time and with use. Compost is the finished product of decaying organic matter. Finished compost should not be warm to the touch and should smell like "fresh earth" like the soil in your garden or flower bed after it has been turned.
---
Top Dressing Lawns With Compost

Top dressing lawns with compost provides a thin mulch which helps minimize surface evaporation. Many golf courses utilize top dressing to maintain high quality turf-grass. Top dressing is recommended along with aeration in the spring and fall. Application rates can be found to the right. Top dressing is also ideal just after reseeding.

---
---
Making Our Recycled Wood Mulch Products
About Mulch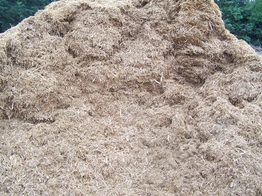 Mulches cover the soil which helps cool the soil, minimize evaporation, reduce weed growth, and slow erosion.
Hardwood Mulch has larger, more dense particles than most bagged mulch. This will make the mulch last longer because it will not blow away and will take longer to break down. All of our hardwood mulch is made on site.
Cedar Mulch is the ideal choice if you are putting mulch in a flower bed near a home because the pleasant aroma repels insects. Excluding eucalyptus, all other mulches will actually attract insects including termites. Our cedar mulch has an attractive golden/reddish color that is popular with many customers.
Colored Mulch is a hardwood mulch that has been dyed with a non-toxic dye. Because the mulch is dyed, the color will last longer than that of natural mulches. Popular colors include brown and red and we typically stock both of them.
---
---
Stop By, Call or Email Us With Any Additional Questions
Phone: (785) 825-2818
Email: service@kanzaorganics.com